Last updated on September 30, 2020
Value Stock Geek, well known by his Twitter handle @ValueStockGeek, was bullish on shares of certain retail companies.
Speaking on the podcast in June 2019, the guest said E-Commerce had not yet destroyed old-fashioned retail commerce. "The retail sector is now a hated and beaten-up sector and it's mainly because of Amazon and E-commerce," he said at the time. "But I think the current narrative is overblown…right now, E-Commerce as a percentage of retail sales represents about 10% of all retail sales. That means that 90% of all retail transactions still happen in the store."
Value Stock Geek's favorite stocks were Dick's Sporting Goods (NYSE: DSK) and Urban Outfitters (NASDAQ: URBN).
What Happened
Both stocks outperformed the SPDR S&P Retail ETF (XRT) through the end of the year and into the first month of 2020. Then COVID-19 hit. There was no way for ValueStockGeek (or anybody else) to predict the pandemic, much less what it ended up doing to the retail sector. After these stocks sold off dramatically along with the rest of the market there has been a rebound, with DKS outperforming the XRT index. As the chart below illustrates, DKS shares are up more than 70% since last June, compared to a gain of about 18% for the XRT. URBN shares have not done as well.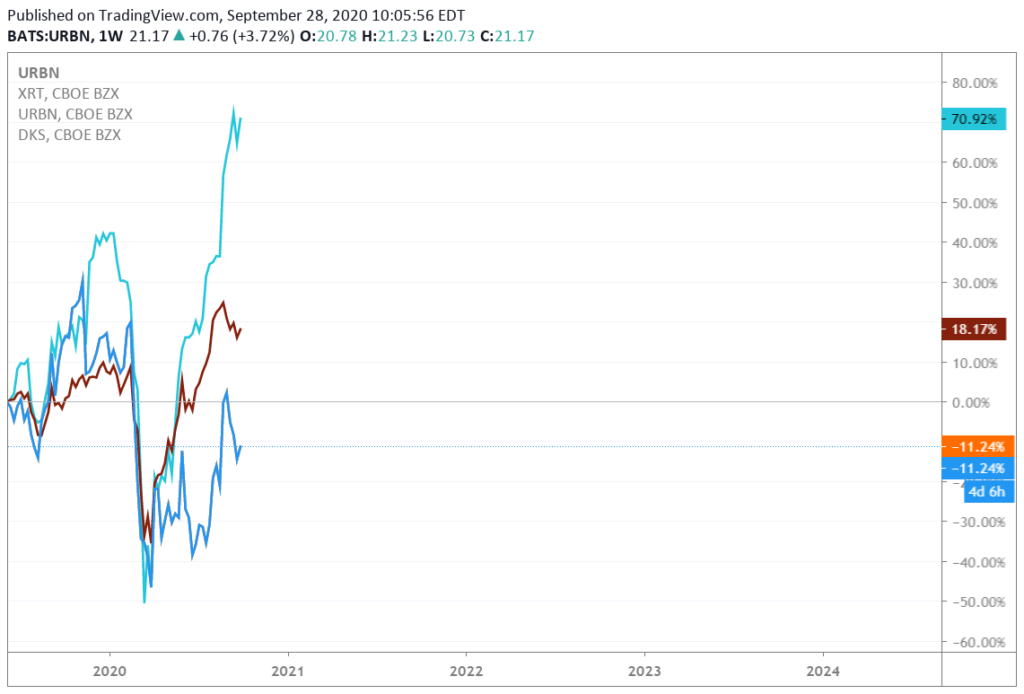 "Obviously I never could have anticipated that we would have a nationwide lockdown when people can't actually go to retail stores," Value Stock Geek said when he was asked about this call on a return visit to the podcast. Still, he continues to hold DKS, which has benefited since COVID as consumers have been doing more camping and purchasing at-home exercise equipment.
"Urban Outfitters went through a really rough period. I ended up selling," he said. "Retail continues to be an area of the economy that's under siege." Stocks will continue to trade at low multiples that will draw down with the rest of the retail sector. "But if you pick your stocks you can find value in there. I'd say Dick's was a pretty good example."