Tag: stocks
What Was Said
Michael Kahan of hedge fund North Peak Capital Management was bullish on time share companies, identifying Hilton Grand Vacations (HGV) as one of his fund's key positions.
"Look, the stock's been beaten up considerably," Kahan said at the time. "When you have a stock that's trading at 6 or 7 Ebitda multiple and a sub-10 P/E, you know it's not beloved by the world." This was a buying opportunity, and the company also had several defensive characteristics that were overlooked by the market.
Shares of HGV were trading around $29 when Kaman provided his comments.
What Happened
HGV traded mostly sideways for the next two months. Then, on Aug. 19 the New York Post reported that Leon Black's Apollo Global Management was in talks to buy the company "for as much as $36 per share."
Predictably, the stock popped on the news: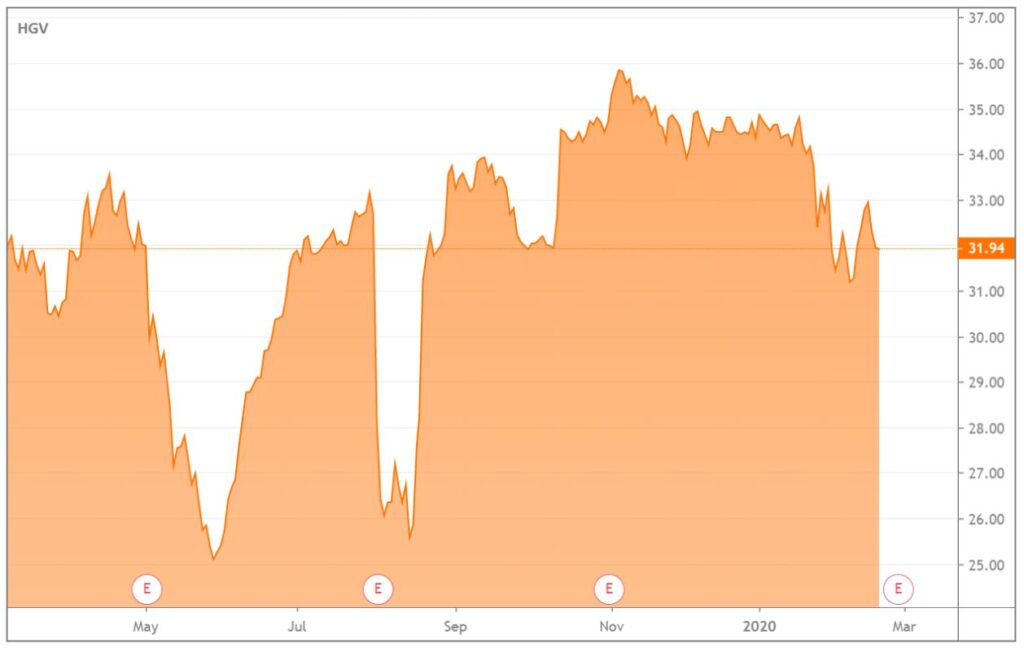 Other news reports soon followed, adding to the Post's story. HGV was exploring a sale, Reuters reported Aug. 29. The company was attracting bids of $40 per share, Bloomberg reported in October. HGV reached a 52-week high of $36.56 per share in November.
By that point, North Peak had sold its stake. "We're no longer involved in Hilton Grand Vacations," managing partner Jeremy Kahan (Michael's brother) said in an interview on Feb. 20. The firm exited around $36 per share after it became clear the company would be sold, he said.
Leave a Comment
Sunrise Capital's Chris Stanton on the What, When, and Where
Chris Stanton, chief investment officer at Sunrise Capital, rejoins the podcast to discuss his bearish views on the market at the start of 2020.
There are reasons to believe a market correction is overdue, Stanton says. Risk is everywhere: geopolitical, volatility, repo markets. A drop of 18% to 20% can be expected before March 31.
Highlights:
"Rest assured, we're heading for a correction and I would argue it's going to be terrifying when it comes" (5:43)
The "Phase 1" deal with China is a temporary measure that will be revoked if Donald Trump wins reelection in November (9:55)
A likely catalyst for a correction is in the repo market (11:36)
A "volatility-led sell off" is likely before the end of the first quarter (16:12)
Where's inflation? (26:34)
It may not take an actual headline for investors to decide equities are overbought (31:01)
Background on Stanton's firm, San Diego-based Sunrise Capital (38:03)
The "origin story": Background on Stanton himself (53:03)
What should retail investors do, right now? (1:02:49)
Not intended as investment advice.
For more information on Sunrise Capital: www.sunrisecapital.com

Leave a Comment