Interested parties may contact us for more information about rates if the below policy is understood. Information about subscriber rates and certain listener demographics is available in the media kit section below.
Note: We already have a partnership with an investment platform that precludes us from accepting similar agreements.
Policy
We are willing to accept placements on the free podcast (intro, middle, outro) of various lengths;
These audio ads can be pre-recorded or 'spoken' by the host;
Advertisers receive a link from the podcast episode page and may receive one 'thank you' mention on our Twitter feed (~3,900 followers);
We are willing to accept sponsorship of our blog posts, which will the take the form of a short link in the introduction — with the understanding that this will not affect content in any way;
Advertisements that pump market individual stocks or other securities are not accepted;
'Native ads' are not accepted;
'Pay to play' podcast guests are not accepted;
The premium content is off limits for advertisers;
Information about individual subscribers will not be shared with advertisers, under any circumstances.
Media Kit
As of Nov. 1, 2022, this podcast has 323,000 unique downloads since launching in April 2019. Full listenership numbers are available here from the podcast host. More advanced demographics are supplied by Spotify below.
For the first 10 months of 2022, the podcast averaged ~10,000 unique downloads each month:

Geographically, most listeners are in North America (source):

Besides iTunes, most listeners get the show on Spotify (source). More on Spotify demographics below.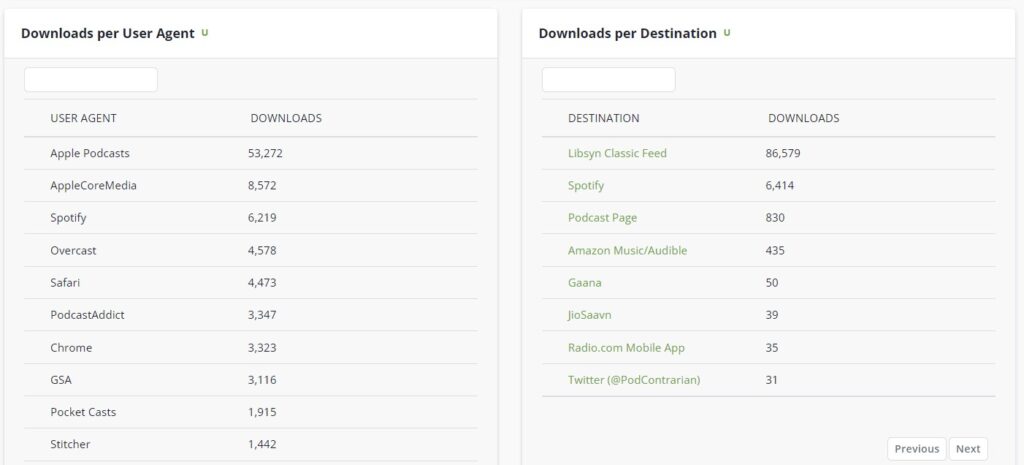 Advanced Demographics via Spotify
Spotify users make up ~10% of total listeners, so consider the sample size:

Age-wise, almost a third (30%) of Spotify listeners are in the 35 to 44 bracket, followed closely by 29 to 34:

Gender-wise, fully 90% of listeners are male: