Powell clearly hinted at 'neutral policy,' but was he speaking out of turn?
The following is an amended form of the Daily Contrarian of Aug. 1, which today also featured the host singing the opening of the Swiss national anthem in honor of Swiss national day. This briefing and accompanying podcast are released to premium subscribers each market day morning by 0700. To subscribe, visit our Substack.
As we start the week there are fresh doubts about this 'Fed pivot' that drove much of last week's rally. If you'll recall, comments by Fed chair Jerome Powell at his press conference led investors to conclude the Fed was going to reverse course on interest rate hikes and soon. This conclusion was refuted by Minneapolis Fed President Neel Kashkari late Friday, which has led to much pontification on Twitter and elsewhere.
Here is what Powell said that led investors to pile in to risk assets on Wednesday afternoon to start a rally that held the rest of the week.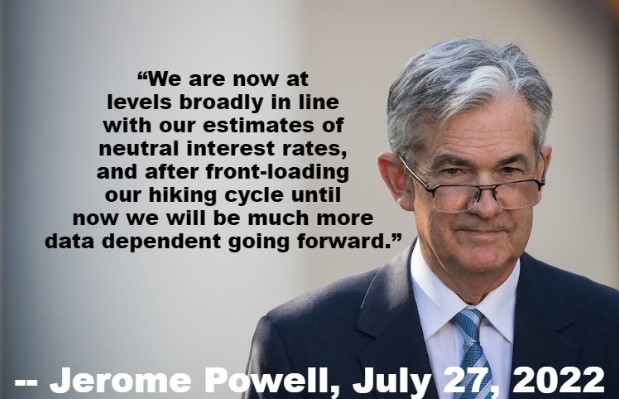 Handicapping the Fed is a dangerous game but so far the market doesn't appear to be too concerned by Kashkari's comments. We'll hear from other Fed officials tomorrow and again later in the week. That's what's scheduled, at least. If the Fed is serious about reeling back Powell's comments they can have officials do interviews on CNBC and elsewhere. So that is maybe worth watching. Maybe Kashkari was the one speaking out of turn?
It's another busy week for earnings, which should drive things most of the week. The main event however is Friday's non-farm payrolls. As we know, the labor market has proven itself quite resilient so far in the face of tighter monetary policy, though unemployment claims are up.