The following is an amended version of the Aug. 29 Daily Contrarian. This briefing and accompanying podcast are released to premium subscribers each market day morning by 0700. To subscribe, visit our Substack.
Stocks sold off precipitously on Friday after comments from Fed Chair Jerome Powell at the Jackson Hole Symposium. Powell laid down the gauntlet on interest rates, saying the Fed was determined to keep raising them until inflation was under control. It turned into an ugly day, with the Nasdaq down almost 4%, S&P 500 declining 3.4%, and Dow Industrials by 3%.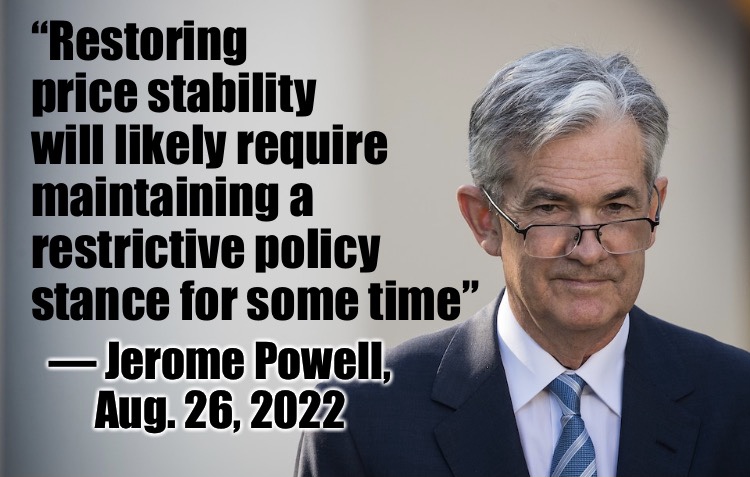 European Energy Crisis
As you may know, energy prices have shot up throughout the continent. This is taking its toll on consumers, which will have an effect on corporations especially as the weather turns colder. Apparently 25% of the S&P 500 earnings come from Europe. There has been a lot of drama on Twitter about this, which leads one to believe it may turn out to be nothing.
The negative headlines are certainly coming fast and furious over this. No less an authority than Foreign Policy (hardly a click bait factory, at least not historically) informs us the crisis is worse than we think. Austria's largest energy supplier has apparently become insolvent. You figure they won't be the last. The crisis is apparently affecting glass production as well.
All the Sturm und Drang (German term loosely translated as 'mad drama) aside, the situation in Europe absolutely bears watching.
The Bottom Line©
Remember that stocks and bonds very rarely sell off at the same time for very long. Eventually the cash that is generated needs to be put to work somewhere, even if it is in the relative safety of bonds. But with the Fed's course (apparently) set "for some time" that is not very palatable right now. It will be interesting to see how these next couple of days play out in that regard.
Where Powell is concerned, it doesn't look like we have any choice but to take him at his word for now. His comments on Friday clearly answered the question whether he was speaking for Fed interest rate policy at at the last FOMC meeting (he wasn't) or just shooting off his mouth (he was). The market is playing along so far, at least judging by Friday.
The interest rate hikes have yet to be felt in much of the economy. In the U.S., malls, restaurants, shopping centers, and airports are crowded AF. Highways are clogged with traffic. The labor market is strong (we'll find out on Friday how strong with the next round of non-farm payrolls). There are some indications that this is starting to turn, but you still have to go looking for these indications — they aren't exactly jumping out at you.
Leave a Comment