Last updated on October 22, 2021
Presenting at the second Contrarian Investor Virtual Conference on June 3, 2020, David Neuhauser of Livermore Partners made the bullish case for Vista Oil (VIST).
Vista, "the leading pure play company in the Vaca Muerta basin," interested Neuhauser because of its strong leadership and management, the large number of undeveloped locations in the basin and "an interesting dynamic where they have credential wells and their shale wells." The shale wells have produced "beyond expectations," and with oil prices rebounding there was "substantial valuethe " in the company, he said. VIST was trading around $3 at the time of Neuhauser's presentation.
What Happened
After an initial jump in VIST's price (perhaps due to the hype from the conference?) the stock leveled off, mostly under-performing the Energy Select Sector SPDR ETF (XLE) and S&P 500 through the second half of 2020 and the first quarter of 2021.
VIST's fortunes changed for the better with its first quarter earnings results on April 27. At the time the stock was actually trading at less than $3 per share but it rocketed higher after earnings. After beating revenue forecasts again on its next earnings report, VIST rallied to a post-pandemic high.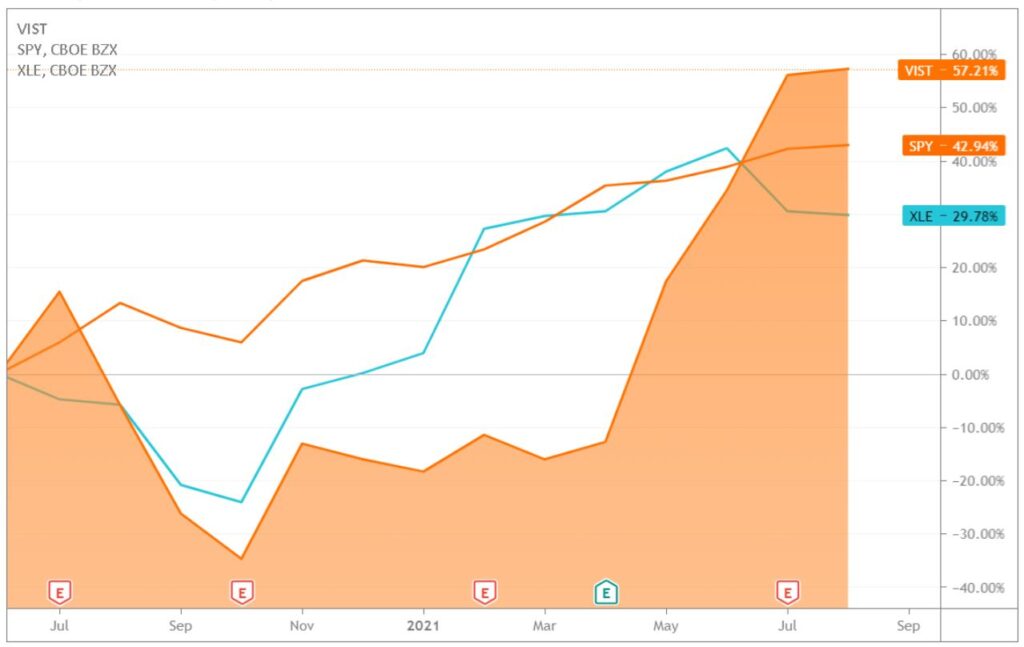 At the time of this writing, the stock was up roughly 57% since Neuhauser's presentation, outpacing the XLE and SPY by double-digit percentage points (see above).
Still Bullish and Still Long
Asked over e-mail if he still held the stock (and was still bullish), Neuhauser replied "still bullish and still long." VIST management "has done a spectacular job and their ops are now generating strong CF and FCF," or cashflow and free cashflow.
The company remains "a high growth story with the only negative remaining the region of Argentina," he added. The stock can trade to $8 per share "or perhaps even much higher," to as much as $15 "in a few short years if pricing holds, debt falls, and production growth explodes. Which I expect to occur!"