Last updated on March 31, 2021
Scott Colbert, chief economist at Commerce Trust Company, on the eve of last November's presidential election predicted a 'blue wave' followed by a rotation into value stocks.
"The Democratic turnout is going to be much larger than it was, and that's enough right there to carry most of those swing states back to the Democratic side," Colbert said last Oct. 28. "You're not going to have enough pro-Trump voters to offset that Democratic wave."
This would lead to "Democrats rolling this thing" and taking back the Senate as well as the White House. The biggest change for markets would be a rotation from growth to value. "It's the combination of the election and a vaccine," Colbert said.
Corporate America would be punished in the terms of higher tax rates, which would affect growth companies more than any other segment of the market. This would make growth stocks less appealing to investors. Value stocks would benefit from this development.
"If you're looking for a contrarian play, I think it's the rotation to value," Colbert said.
What Happened
Joe Biden won the election and the Democrats took narrow control of the Senate after winning a pair of run-offs in Georgia on Jan. 5. Stock markets rallied after Biden's victory, with the S&P 500 Index up about 17% since the day after the election.
Value stocks as measured by the iShares Core S&P U.S. Value ETF (NASDAQ:IUSV) have outgained growth stocks, gauging by the iShares Core U.S. Growth ETF (NASDAQ:IUSG). The IUSV is up almost 25% since Nov. 3, outpacing the S&P 500, whilst the IUSG has gained just 12% (and seen a significant pullback that was technically a correction at one point since late February).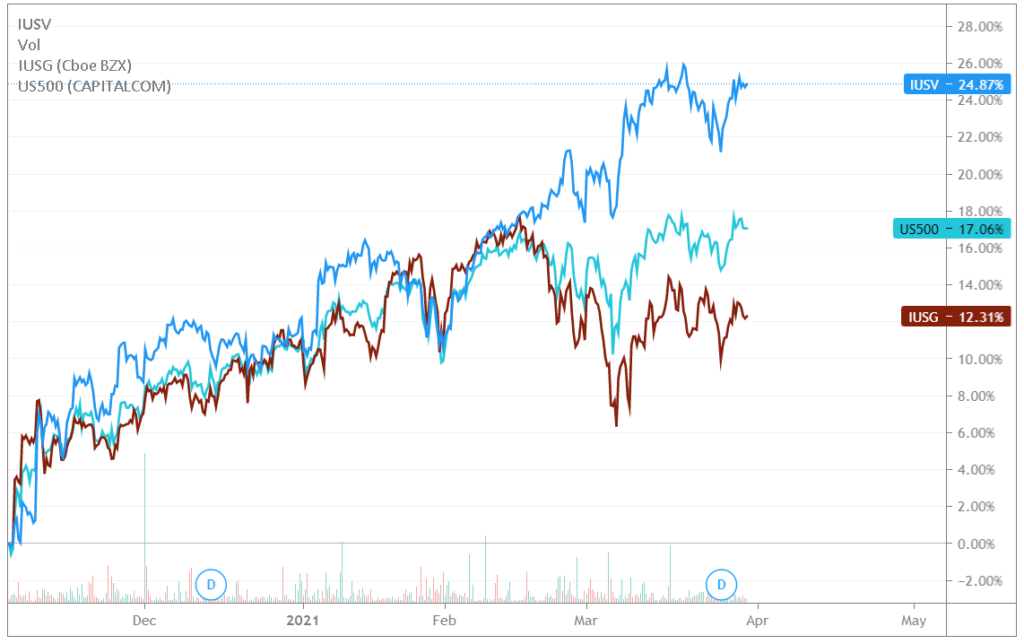 Amid all the reasons supplied by so-called experts in explaining the drop in growth stocks, higher taxes has never really been mentioned as the cause. Indeed, tax concerns have not been a matter of serious discussion until very recently, with Biden's infrastructure plan and accompanying tax hikes now due to be announced March 31. The market may be getting wise to this development now.